OLD vs. NEW: NO MORE HIJAB AT WORK! pt.1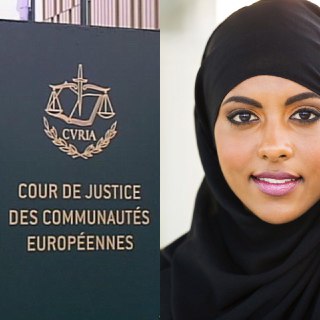 Today's topic is a really important and serious one, that's why everything will be reported in a cold, rigid manner and strictly from respected sources (these will be listed below). I want the reader to see all the evidence without me providing any personal input. All I did was research the information and provide them to you in a simpler format so that anyone with good knowledge of English can understand. It's a complex but extremely significant subject so please bear with me until the end. If you are interested in my personal opinion, it will come out tomorrow in pt.2.
On the 14th of March 2017, The Court of Justice of the European Union declared that: "An internal rule of an undertaking which prohibits the visible wearing of any political, philosophical or religious sign does not constitute direct discrimination
However, in the absence of such a rule, the willingness of an employer to take account of the wishes of a customer no longer to have the employer's services provided by a worker wearing an Islamic headscarf cannot be considered an occupational requirement that could rule out discrimination".
_WHAT IS THE COURT OF JUSTICE OF THE EUROPEAN UNION?
The European Court of Justice (ECJ), is the highest court in the European Union in matters concerning European Union law. The Court was established in 1952 and is based in Luxemburg. It is composed of one judge per member state, currently 28.
_WHY DID THEY DECIDE THAT?
The Court ruled after two cases:
CASE 1: In 2003, Samira Achbita, a Muslim woman, was employed as a receptionist by G4S, a private undertaking which provides reception services for customers in both public and private sectors. At the time of Ms Achbita's recruitment there was an unwritten rule within G4S that prohibited employees from wearing visible signs of their political, philosophical or religious beliefs in the workplace. In 2006, Ms Achbita informed her employer that she intended to wear an Islamic headscarf. In response, the management of G4S informed her that the wearing of the headscarf would not be tolerated because the visible wearing of political, philosophical or religious signs was contrary to the position of neutrality G4S adopted in its contacts with its customers. The G4S approved an amendment to the workplace regulations, which came into force later the same year. This amendment stated that 'employees are prohibited, in the workplace, from wearing any visible signs of their political, philosophical or religious beliefs and/or from engaging in any observance of such beliefs'.
Ms Achbita was dismissed because of her continuing insistence on wearing the Islamic headscarf at work. She challenged that dismissal in the Belgian courts. The Hof van Cassatie (Court of Cassation, Belgium), before which the matter was brought, has queried the interpretation of the EU directive on equal treatment in employment and occupation.
The Court of Justice finds that G4S's internal rule refers to the wearing of visible signs of political, philosophical or religious beliefs and therefore covers any manifestation of such beliefs without distinction.
It states that an employer's desire to project an image of neutrality towards both, its public and private sector customers is legitimate, notably where the only workers involved are those who come into contact with customers.
The Court therefore concludes that the prohibition on wearing an Islamic headscarf, which arises from an internal rule of a private undertaking prohibiting the visible wearing of any political, philosophical or religious sign in the workplace, does not constitute direct discrimination based on religion or belief within the meaning of the directive.
CASE 2: Prior to being recruited by Micropole, a private enterprise, Asma Bougnaoui met a representative of Micropole at a student fair in 2007, who informed her that the wearing of an Islamic headscarf might pose a problem if she were to be in contact with customers of the company.
Regardless of the comment, she wore the Islamic headscarf at work. At the end of her internship, Micropole employed her from 15 July 2008, as a design engineer under a contract of employment of indefinite duration. Following a complaint from a customer to whom she had been assigned by Micropole, the principle of the need for neutrality had been reaffirmed and asked her not to wear the headscarf. Ms Bougnaoui objected and was subsequently dismissed. She challenged her dismissal in the French courts.
The matter was brought to The Cour de cassation (Court of Cassation, France), who were asked by the Court of Justice whether the willingness of an employer to take account the wishes of a customer to no longer have services by a worker wearing an Islamic headscarf may be considered a 'genuine and determining occupational requirement' within the meaning of the directive.
The answer given by the Court was that this cannot be considered a genuine and determining occupational requirement within the meaning of the directive.
­_IS THIS LEGAL ACCORDING TO The European Convention of Human Rights 1953?
ARTICLE 9
Freedom of thought, conscience and religion:
Everyone has the right to freedom of thought, conscience and religion; this right includes freedom to change his religion or belief and freedom, either alone or in community with others and in public or private, to manifest his religion or belief, in worship, teaching, practice and observance.

Freedom to manifest one's religion or beliefs shall be subject only to such limitations as are prescribed by law and are necessary in a democratic society in the interests of public safety, for the protection of public order, health or morals, or for the protection of the rights and freedoms of others.
_WHAT DO WE THINK ABOUT THIS?
Anti-racism organisations in Europe condemned the decision, with the European Network Against Racism (ENAR) branding it "dangerous" and worrying: "This is the worst-case scenario for us because it is giving employers the licence to discriminate against Muslim women," spokesperson Jilly Pascoet told BuzzFeed News."This can be applied not only to Muslim women, but to other people who follow a religion that requires them to dress a certain way." Pascoet questions about what exactly it meant to be "neutral" in Europe in 2017. "The fact that seeing a Muslim woman wearing a headscarf is not neutral is a real problem" she said. "We believe neutrality is in the service you are giving and the way you doing your job, and not because of your appearance. If it is because of your appearance, then what is it to be neutral in Europe today? That is where we see the danger."
François Fillon, the conservative candidate in the French presidential election, hailed the ruling as "an immense relief" that would contribute to "social peace".
In France, a 2014 study on CVs and success rates showed that a Muslim woman wearing the headscarf who applied for jobs had a 1% return rate. Furthermore, in Belgium 44% of employers agree that wearing a headscarf can reduce a candidate's chances, according to a report by the European Network Agaist Racism (ENAR).
In Germany, the rightwing populist party, Alternative für Deutschland, also welcomed the ruling: "The ECJ's ruling sends out the right signal, especially for Germany," said the AfD's Berlin leader, Georg Pazderski. "Of course companies have to be allowed to ban the wearing of headscarves."
The German broadsheet Süddeutsche Zeitung predicted that the ruling would fundamentally change how German courts assess similar cases, because the assumption since 2002 had been that "religious symbols could not be banned from the workplace on anything other than safety grounds".
This will lead to not only Muslim women facing discrimination in the workplace, but also Jewish men who wear kippas, Sikh men who wear turbans, and Christians who wear crosses. It affects all of them, but disproportionately Muslim women.
Lina Toumi, the vice president of FEMYSO in France, said: "Within a week from the 8th of March [International Women's Day] we are reminded how women's rights are still being violated in Europe. Once again, we are witnessing a court ruling that will affect primarily women. Now more than ever, it is important for everyone to unite against any sort of discrimination, and to empower EU citizens in order to build strong and inclusive societies."
The president of the Conference of European Rabbis, Chief Rabbi Pinchas Goldschmidt, said: "This decision sends a signal to all religious groups in Europe." The United Sikhs advocacy group said the "disturbing" ruling allowed employers to override fundamental human rights.
The European Forum of Muslim Women, a Belgium-based network campaigning for women's rights, said they "strongly condemn and deplore the decision", adding: "The backing of this headscarf ban by the highest court of justice in Europe is a serious threat to the principles of equality, justice, and freedoms that EU must uphold."
The group said that Muslim women were one of the most targeted groups in Europe for the visible expression of their faith in public and, in particular, at work, adding: "Many struggle to access and remain in the employment sector, facing a triple penalty with gender, ethnicity, and religion."
"This ruling will further alienate Muslim women from the workplace, preventing them from strengthening their economic independence and their emancipation in society by being part of the workforce," the European Forum of Muslim Women said.
The Forum of European Muslim Youth and Student Organisations (FEMYSO), an association of young Muslims across Europe, said in the joint statement with ENAR that the decision would serve to "legitimise discrimination of Muslim women".
In a statement by CCIF, an association campaigning against Islamophobia in France who battled against the burkini ban, said the ruling condemned Muslim women to "economic and social death."
The statement went on to explain that the decision "is all the more serious at a time when Muslim women are already being discriminated against at every stage of their life, from childhood to adulthood, and in all aspects of daily life."
https://www.buzzfeed.com/rosebuchanan/a-top-eu-court-has-ruled-companies-can-ban-employees-from-we?utm_term=.ll8LqWPWzD#.nepNmo0ovM
https://www.buzzfeed.com/aishagani/eu-court-hijab-ban-alienate-muslim-women?utm_term=.pfMbzP7PVL#.bt1x5KWK9E
http://www.euronews.com/2017/03/14/in-the-first-case-of-its-kind-the-european-court-of-justice-rules-that-employers-are-allowed-to-ban-employees-from-wearing-visible-religious-symbols
http://www.bbc.com/news/world-europe-39272231
http://www.independent.co.uk/news/world/europe/european-court-justice-islamic-headscarf-hijab-ban-employers-legal-religious-symbols-case-belgium-a7628626.html
https://www.theguardian.com/law/2017/mar/14/employers-can-ban-staff-from-wearing-headscarves-european-court-rules
https://www.theguardian.com/commentisfree/2017/mar/15/hijab-ruling-muslim-women-religious-identity-european-court-of-justice-resistance
http://www.ilfattoquotidiano.it/2017/03/14/velo-sul-posto-di-lavoro-la-corte-di-giustizia-ue-lazienda-lo-puo-vietare-non-e-discriminatorio/3450047/
http://www.repubblica.it/esteri/2017/03/14/news/corte_giustizia_ue_divieto_velo_islam-160513041/
https://it.wikipedia.org/wiki/Convenzione_europea_per_la_salvaguardia_dei_diritti_dell%27uomo_e_delle_libert%C3%A0_fondamentali